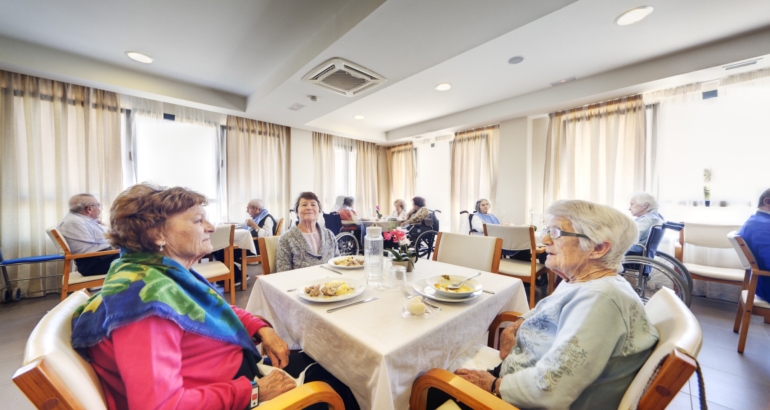 Special diets and in house cooking
We serve a healthy Mediterranean diet as our regular menu but we also offer a variety
of diets tailored to our residents' age, needs and illnesses.
Types of diets:
Normal and basal diets, soft textured and easy to chew, pureed meals for people with swallowing difficulties.
Low sugar diets: carbohydrate controlled and free of refined sugars for patients suffering from obesity, diabetes, dyslipidaemia (excessive amounts of cholesterol and fatty acids in the bood).
Low sodium diets: Prepared low in salt and high sodium content foods. These diets are suitable for patients with uncontrolled high blood pressure.
Astringent diets for patients suffering with diarrhoea: low in waste producing foods and easily digested. Full fat milk is replaced with small amounts of lactose free milk and insoluble fibre (salads, whole fruits) is reduced and soluble fibre increased (eg. Peeled apple).
Low fat diets for protection of the bile.
High protein and high calory diets for patients who have suffered infections, injuries and malnutrition.
Low protein diets for specific cases of kidney failure in the absence of dialysis and those with liver function problems.
Diets for patients with allergies or food intolerances such as gluten or lactose.
Vegetarian and vegan diets.
Do you have any queries?
Please contact us and we will endeavour to help.